SIRIUS
FICTION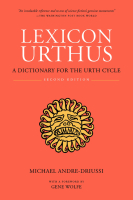 SIRIUS FICTION
P.O. Box 6248
Albany CA 94706-0248
USA
LEXICON URTHUS, SECOND EDITION
Our flagship product, Lexicon Urthus, which has been out of print since 2002, is available again in a new, expanded edition.
The new edition has 1200 entries (up from 950 in first edition).
The new edition is 440 pages (up from 304).
All the corrections (and most of the additions) of the AE& series and NS-1 are included.
All the named characters are added.
The new edition is available for the first time in paperback.

| | |
| --- | --- |
| Trim | 6 x 9 inches |
| Page Count | 440 pages |
| Illustrations | 20 b/w illustrations, 10 maps, 24 tables |
| Hardcover | $39.95 978-0-9642795-0-6 |
| Paperback | $19.95 978-0-9642795-1-3 |
This second edition is the culmination of many years of work with much help from the energetic readers of the first Lexicon Urthus. It includes all of the entries from the original edition plus all of the entries from the booklets we published after its publication. Errata for this edition.

HOW TO BUY


The book is available at many booksellers, including the following:

Booksellers: Both editions are available from distributors including Ingram and Baker & Taylor. You can also contact us at sales @ siriusfiction.com to order direct or to be added to the list above.
---
HISTORY OF LEXICON URTHUS

We originally published Lexicon Urthus in 1994 in a limited printing of 1000 hardcover copies, priced at $39.95. It was 304 pages long and had 80 illustrations, 3 maps, and 13 tables. We quickly began receiving letters from readers about additional suggestions. Some were corrected in a free errata sheet but soon Michael Andre-Driussi began compiling booklets to supplement the original volume.

In 1995 we published Additions, Errata, &cetera: volume 1, a booklet of notes, comments, and quibbles from readers of Lexicon Urthus. It included a "The Lexicographer's Introduction," "Frequently Asked Questions," and a conversion table for different editions of The Book of the New Sun.

In 1996 we published Additions, Errata, &cetera: volume 2, another booklet of notes, comments, and quibbles from the energetic readers of Lexicon Urthus. It featured much bibliographical reference material on Gene Wolfe and a new map of the Commonwealth by Alice K. Turner, as well as the usual entries.

In 1998 we produced Additions, Errata, &cetera: volume 3, the final booklet of notes, weighing in at 11,000 words. This volume's celebrity contributor is David Langford. Topics include: the three universe model, mechanics of mirror magic, Valeria's Reign, the black hole in the dying sun, notes on the play by Dr. Talos Eschatology & Genesis, astereoengineering, Kardashev levels of interstellar civilization, Urth's power grids, and much more.

In 1998, we also published NS-1: Synopsis of the Narrative of Severian the Great, Last True Autarch of Urth. This was a chapter by chapter summary of The Book of the New Sun and The Urth of the New Sun. Appendices for "Sailor Talk" (listing all the Wellerisms used by the sailors); "Authorized Texts" (the stock phrases used by Ascians); a newly revised and expanded Timeline of Posthistory; and a "Stream of Symbols."

By May 1, 2002, the original 1000-copy printing of the Lexicon was completely sold out. We continued to sell the booklets until we ran out of copies (except for NS-1, they all went out of print on February 1, 2006), and then we began thinking about issuing a new second edition that would incorporate all of the material in the booklets plus more new material suggested by readers and fans. Though it took 6 more years of work, we are delighted to present the new fully expanded second edition, at the same original hardcover price plus a new paperback version as well.